February 26, 2015 - EARTH
- The following constitutes the latest reports of unusual and symbolic animal behavior, mass die-offs, beaching and stranding of mammals, and the appearance of rare creatures.
Masses of dead fish found floating in Guanabara Bay, Brazil
Flagrant of dead fish in the Guanabara Bay (Photo: Ricardo Moraes / Reuters)

A day after the governor of Rio, Luiz Fernando Bigfoot, say that the clean-up program of Guanabara Bay for the 2016 Olympics reached 49%, images showed hundreds of dead fish in the region on Tuesday (24).

In press on Monday (23), Bigfoot also said it will rely on the understanding of the International Olympic Committee (IOC), who is in town this week for meetings with municipal and state governments, if the target of 80% of the pollution is not attained.

Guanabara Bay dawned with dead fish (Photo: Ricardo Moraes / Reuters)
Dead fish in Guanabara Bay (Photo: Ricardo Moraes / Reuters)
According Bigfoot, the question of Guanabara Bay, which will receive the sailing events of the Olympic Games should not shake the list of authorities with the IOC.

According to the State of the Environment (INEA), technicians found the presence of dead yellowtail in Fundão Canal.
Water samples were collected and the results should be out in seven days. - Globo. [Translated]
Deadly winter takes toll on waterfowl in Michigan
Ducks sit on a shelf of ice Monday along the St. Clair River in Port Huron. © Andrew Jowett / Times Herald
Harsh weather is taking a toll on the waterfowl concentrated in the St. Clair River.
Terry McFadden, a wildlife biologist with the Michigan Department of Natural Resources, said
waterfowl across the state are dying because of the extreme cold and growing ice cover.
Below-zero temperatures have caused rapid ice formation, blocking ducks from food sources in the water and sometimes trapping the birds in the ice.
"Most likely it's going to be similar to last year, we lost quite a few last year," McFadden said. "We don't have a really good estimate,
but it was in the thousands."
McFadden said waterfowl, including long-tailed and canvasback ducks, are concentrated in the St. Clair River, where some of the region's only remaining open water is located.
That large concentration of birds depletes available resources as the ice forms.
WATCH:
Deadly winter takes toll on waterfowl in Michigan.
"I don't know if we're going to lose as many (ducks) this year, but it's hard to say, we got hammered with these conditions fast," McFadden said.
While it is tough to see, he said people need to leave the ducks alone. The ice is unstable, and even if a duck is freed, he said its fate may already be sealed.
"It's a terrible way for any wild animal or any animal out there to go. It's unfortunate," McFadden said. "There's not much you can do at this point."
But John and Chelsea Borkovich of Fort Gratiot couldn't stand to watch the birds die Monday.
The Fort Gratiot father and daughter had originally ventured down to the river in Port Huron to see some of the migratory diver ducks that fly in from Saskatchewan, Manitoba and northern Michigan.
With camera and binoculars, the two discovered something unexpected along the icy shoreline of the river near where the Coast Guard cutter Hollydock docks.
"We found probably seven dead ducks, all different types," Chelsea said. "We found three that were still alive. We came back and saved a couple others stuck in the ice."
John Borkovich, who worked as a Michigan conservation officer for 27 years, said he knows it can be all too common in Michigan waters.
"Last year we lost thousands of ducks in the state,"
he said. "It's important to save anything that can't fend for itself."
The two began freeing the ducks by pulling the still-attached feathers out of the ice. They also used a 20-foot aluminum pole to test and later break up the ice that surrounded the ducks.
Afterward, they brought the ducks up the bank to their van to warm up. The ended up freeing five ducks.
The female redhead was one of the last they brought up to get warm.
"Probably within 10 minutes, she would have been dead," Chelsea said. "She was sideways and her eyes were closed."
Minutes after being released back into the St. Clair River, the bird could be seen diving down for food once more.
"Some people would say, 'It's just a duck,'" John said. "But that's not fair. It's still a living creature." -
The Times Herald
.
Thousands of dead fish wash up along Runmaro Island, 'never seen this before' in Sweden
Per Åkerlund took a photo of the dead fish.
Last Thursday Per Åkerlund on the island Runmarö in the Stockholm archipelago to watch the in-laws' house.
During a walk along the eastern part of the island, he began to see how it was dead fish along the shore.
But the dead fish was just the beginning.
- I went on a mountain and looked smaller collections of fish everywhere. I walked along the water and came to a bay where it had blown into drifts of fish, he says.
The thousands of dead herrings as Per Åkerlund captured image was washed up from the sea and was only a few feet from the shore.
Never seen anything like it
He has some experience of the archipelago and fish, but it is the first time he sees something similar.
- It looks a little nine-spined stickleback sometimes, but I've never seen this kind of fish, he says.
With the dead fish came a certain odor, he says:
- It did not smell so good. I took the picture and held my nose and walked away.
Afterward, he alerted the provincial government about the incident that has said they will return if they get some clarity in what herring death depends.
Sture Hansson, Professor of Systems Ecology, Stockholm University, says that it occasionally wash ashore large amounts of dead fish, and that there may be a number of explanations as to why.
- It is very difficult to say what caused it. One can only speculate and it gets the imagination to grow.
If the event on Runmarö not repeat itself, it's nothing to worry about over a larger perspective, says Sture Hansson.
Freezing water
He mentions several possible explanations why the fishermen's death.
- It could be such a trivial thing as a fishing boat that had been out since not received the entire beam. Or that it has become a hole in the beam, he says.
During the winter, the water can be supercooled and so cold that the fish are unable to survive in it. Under normal circumstances keep the fishes to warmer water, but if a stressor occurs, it may cause them to go astray, says Sture Hansson.
- We have a lot of seals in the archipelago now. If a herring shoals chased by a seal, they can behave foolishly and end up in very cold water that they can not do, he says.
- Expressen. [Translated]
Battling Bald eagles crash down onto tree in Tuckerton, New Jersey
Two bald eagles interlocked, injured and hanging from a tree in Tuckerton, NJ. © Ben Wurst
On Tuesday, February 17, 2015 we got a call about a couple injured bald eagles from our colleagues with the Endangered and Nongame Species Program. They were reported hanging from a pine tree off a road in Tuckerton, NJ by some local residents. We didn't know how long they were there, but we knew that we needed to respond quickly if a bird had a chance to survive. We arrived at the scene to find two adults that were indeed, hanging from a tree. Luckily the local residents on the scene knew someone who worked for AC Electric (he also lived on the same road the birds were off of) and had a truck with a cherry picker on it. After the cherry picker arrived I went up to free the two birds.
WATCH:
Bald eagle rescue.
One eagle was alive and one had unfortunately died. The two were likely engaged in a territorial dispute and fell to where they hung on that skinny tree branch. Eagles are extremely territorial to their nest sites and even fight over food when it is scarce. Eagles also often lock feet while performing courtship displays,
but this was certainly NOT a courtship display. Each had a foot that was totally locked with the other. The dead eagle had its "death grip" on the surviving eagle
and if no one saw these birds then both would have died.
After assessing the situation, I realized I needed some kind of a pole or hand saw to cut a branch to slide the dead birds leg off the branch, which would free both birds. I called down to the local residents who gathered below and asked if any had a saw. One did, so I went back down, grabbed the saw and proceeded back up to cut the branch and free the hanging eagles.
After bringing the birds down to the ground, watch as it took three grown men to pry their feet apart.
The survivor was banded (although the federal band was missing) with a green auxiliary band, C/58, and she was ID'd as a female that was produced at a nest near Merrill Creek Reservoir in 2008.
I had no idea how I would carry the surviving bird home. She was wrapped in a blanket to keep her calm. I was considering driving her to my house (10 min away) on my lap or on the floor of my truck (wrapped up). Luckily neither was needed! Another local resident had a large dog crate in his truck so we put the bird in the crate. After talking over options for care of the bird with Kathy Clark, ENSP Zoologist, we decided to transport her to the Mercer County Wildlife Center last night. I met Diane Nickerson, Director of MCWC, who stayed late to help give this bird the urgent care that it most desperately needed. It was alert and feisty, which were both good signs. It was given fluids, medications, and was placed in an incubator to stay warm for the night. We're anxious to hear how the bird is doing today. -
The Gloucester City News
.
World's Largest Falcon Species, Arctic Gyrfalcon, Spotted In Chicago Area
A gyrfalcon lands on a man's hand. (Credit: JOEL SAGET/AFP/Getty Images)
Chicago's hosting an extremely rare visitor which is good for bird watchers but tough on other birds, reports WBBM's John Cody.
Wildlife biologist Chris Anchor with Cook County Forest Preserve District says the same conditions that brought snowy owls to Chicago have also brought Chicago the biggest falcon in the world.
The Gyrfalcon has a wing span up to 4 and 1/2 feet and weighs three or four pounds. Anchor says they can kill other birds as large as ducks and geese.
He says the Gyrfalcon, spotted at Navy Pier and also in Barrington northwest of Chicago, has a maximum air speed of 120 miles an hour.
Anchor says this is only the fourth one he's seen in his 30-year career as a wildlife biologist. -
CBS Chicago
.
Rhino attacks car at West Midland Safari Park, UK
A mum has demanded tighter safety controls at West Midlands Safari Park after a charging rhino smashed into her vehicle – with her screaming toddler inside.
The two tonne beast caused £500-worth of damage to Vicky Liggins' Mitsubishi Warrior during the heart-stopping attack at the tourist attraction in Bewdley,
Worcestershire
.
Vicky Liggins from Halesowen whose 4x4 vehicle was damaged after it was attacked and lifted up by a rhino
And as the
Northfield
bank worker fled the scene, with her sister Beth Rees and 19 month-old daughter Evelyn in the car, she says the Asian rhino gave chase.
Thankfully, a ranger came to the rescue, but the beast gave chase as Vicky drove away.
The Mitsubishi suffered a smashed back light, crumpled rear and dents to the driver's side.
The safari park has apologised to Vicky and sent her a £250 goodwill gesture.
But Vicky, aged 26 from
Halesowen
wants barriers erected to prevent rhinos wandering in front of vehicles.
Rhinos at West Midlands Safari Park
"We were absolutely petrified. I dread to think what would've happened if we'd been in a smaller, lighter vehicle," Vicky told the Birmingham Mail.
"As we drove past the three rhinos, I thought they were too close. These animals are two ton – they weigh more than a car, they're dangerous animals.
"I didn't notice the rhino behind my car until it hit the vehicle with its horn.
"We were all really frightened. It then shunted us from behind with such force, the back wheel lifted off the floor.
"We were absolutely petrified. I thought the rhino was going to pierce the back panel and smash through the rear windscreen. We couldn't drive away because of the rhinos in front.
"My daughter was in tears and the sad thing is that she loves animals."
"It was one very scary and expensive day," said Vicky. "As a member of the public you don't expect to be hit by a massive animal like that.
"I want the public to understand the dangers of safari parks. Even with so called 'rangers' on site, it isn't safe."
Vicky has criticised the way park top brass handled the attack, which happened three weeks ago. "I received no immediate apology and was referred to the 'terms and conditions'.
In an official statement to the Birmingham Mail, the safari park has said sorry, but declined to go into detail about the incident.
A spokeswoman said: "The highlight of a visit to West Midland Safari Park is to drive amongst free roaming animals and to get the chance to feed some of them."In addition, we also offer a guided minibus tour for a small extra charge. We welcome many, many thousands of visitors during the course of a year without mishap and, therefore, we are very sorry that wasn't so on this particular occasion". -
Birmingham Mail
.
Rogue owl terrorizing Dutch town
A European eagle owl in Portugal is shown in captivity. One of its breed has been wreaking havoc in the Dutch town of Purmerend.
Wikimedia Commons/Alvesgaspar



The northern Dutch town of Purmerend has advised residents to arm themselves with an umbrella when going out at night after a mysterious spate of bloody rogue owl attacks.
Over the last three weeks, the
European eagle owl has silently swooped on dozens of residents of the usually peaceful town, with many victims requiring hospital treatment.
The latest aerial assault on Tuesday evening saw two members of a local athletics club attacked, with one runner requiring stitches for six head wounds caused by the nocturnal bird of prey's talons.
The club has cancelled all training until further notice.
Residents and workers at Prinsenstichting home for the handicapped have been left terrified following at least 15 attacks, spokeswoman Liselotte de Bruijn told AFP.
"During the day there's no problem, but at night we now only venture outside armed with umbrellas, helmets and hats, anything really, to protect ourselves," said De Bruijn.
"The problem is that you don't hear the owl before it strikes. Its claws are razor-sharp," she said.
"We hope the city will soon catch this rogue bird."
Purmerend city council said it was trying to find a solution.
"We want to catch the owl as our city's residents are in danger," it said on its website, noting however that the European eagle owl is a protected species that requires special permission to be trapped.
"These procedures can still take some time. Meanwhile, we are advising people to stay away from the owl," the city said, telling night strollers in the area to shield themselves with umbrellas.
Gejo Wassink of the Netherlands' OWN owl foundation said the
bird's behaviour was unusual.
"Either the owl was reared in captivity and released into the wild and now associates humans with food -- meaning it's not really 'attacking' people."
"Or it may have heightened hormone levels as the breeding season starts, which influences its behaviour and makes it defend its territory," Wassink told AFP, saying the bird "appears to be a female".
He pointed to the wider problem of people hand-rearing owls and then releasing them into the wild when they become too big to handle, potentially leading to an increase in attacks.
The European eagle owl is one of the largest owl species, with a wing-span of up to 1.80 metres (almost six feet) and weighing up to three kilos (seven pounds). -
Discovery News
.
Moose went "out of its way" to trample woman in Steamboat Springs, Colorado
A dog walker found herself on the wrong side of a bull moose last weekend when she was struck and trampled by one in Colorado.



The popular ski resort town of Steamboat Springs is well-known for its hot springs, skiing festivals, and abundant moose population. Visitors are often warned to give the area's resident moose a wide berth, but sometimes the animals have ideas of their own. According to
CBS4,
a dog walker was injured on Sunday when she was trampled by a spooked moose.
The victim, who has been identified by Colorado Parks and Wildlife (CPW) as Katharine Hash, sustained serious injuries during the encounter and was later airlifted to a Denver hospital.


Witnesses told investigators that the bull moose had struck Hash from behind, despite having ample space to run around her, and some even said that the animal deliberately crossed the road to trample the dog walker.
"At this point, our best guess is something else happened on an adjacent property and caused the moose to run (into Storm Mountain Ranch), and for whatever reason it came across the woman and ran over her," CPW wildlife manager Jim Haskins told the
Steamboat Pilot.
"Whatever happened probably didn't have anything to do with the dogs."
Hash later told investigators that she did not know the bull was nearby until she turned around at the last second and was headbutted by the animal. Getting hit by a moose running at full speed is not unlike getting hit by a truck, and Hash suffered multiple facial and skull fractures. Despite the injuries, Hash has since been released from the hospital and is now recovering. Conservation officers were able to track the animal to Emerald Mountain, even picking up shed antlers that are believed to belong to the bull. CPW spokespeople say that it is the policy of the department to euthanize moose that aggressively attack humans, but also added that officers have a low probability of locating the animal.
It is not the first time the CPW has been on the trail of an unruly moose. Hash's encounter marks the fourth moose attack in the Steamboat area since 2013,
and also the fourth dog walker to be confronted by one of the large animals.
"In the wake of several people being injured by moose [in 2014], Colorado Parks and Wildlife is reminding outdoor enthusiasts that moose can be aggressive when dogs and humans get too close. Since early spring, wildlife officers have responded to three human/moose conflicts, including two recent incidents in Grand Lake. In all three instances, dogs—both on and off-leash—reportedly spooked the moose before it charged and seriously injured the dog's owner." stated the CPW on its
website.
"Moose in Colorado have very few natural predators and they are not generally frightened by humans. However, state wildlife officials caution that the large ungulates see dogs as a threat due to their similarities with wolves, their primary predator. Wildlife officials caution that dogs should never be allowed to approach a moose." -
Outdoor Hub
.
Aggressive eagle owl terrorizes residents in Wotton-under-Edge, UK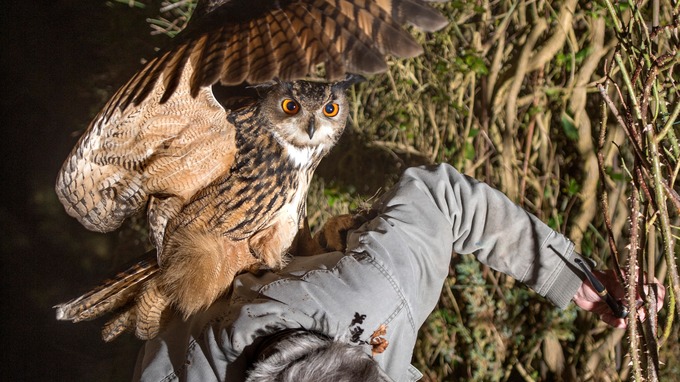 This eagle owl could be one of the biggest in the world Photo: N/A
An eagle owl has been terrorising residents in Wotton-under-Edge in Gloucestershire.
It's thought the owl has been hand reared, and so is attracted to people.
The bird, which may have escaped from a private collector, is one of the biggest owls it the world - and expert Jemima Parry-Jones says that during the breeding season people do need to take care.
One woman broke her arm as she tried to run away from him.
It's not vicious. It's not nasty. But it is an accident waiting to happen. These are one of the largest owls in the word. They are large enough to kill a 5 pound rabbit. They take other birds of prey and may well be killing other owls in the area, and they have been known to kill small cats as well. They have feet almost the size of my hand, with talons over an inch long, and if it lands on someone who is frightened, and they try to brush it away, or if it lands on a child and they scream and try to run off they can get hurt.
- Jemima Parry-Jones, International Centre for Birds of Prey
-
ITV
.
The canary in the coal mine? Nesting wading bird population crashes by 28% in a year, Florida Everglades
Low water conditions because of the drought in Everglades Conservation area 2B west of Markham Park in Sunrise provide easy pickings for wading birds.Blue
Herons, egrets, white herons, woodstorks, black crowned night herons and cormorants are several of the species of birds that are enjoying the feast in the area
on April 28,2011.Here woodstorks gather on the dike on the south side of the conservation area. Credit Joe Rimkus Jr. / Miami Herald Staff
It's not a canary or a coal mine in Florida, but the idea from
Audubon of Florida
is the same.
Wading birds hold the same function as the canary, and in this case the coal mine is the Everglades. Tabitha Cale with the society says things are dire.
The 20th anniversary of the
Wading Bird Report
is out and there's some bad news. Everglades restoration is not going well.
The report shows that in 2014 there were 34,714 wading bird nests in the Greater Everglades. That's 28 percent fewer than in 2013.
The biggest drops included little blue herons, 83 percent, tricolored herons, 42 percent, and snowy egrets, 47 percent.
Counting wading bird nests is an indicator of where water flows are improving. The report shows the area with great progress is the Kissimmee River Basin. Meanwhile, Everglades National Park still needs improvement.
There's promise on the legislative side. Last month Governor Rick Scott set aside $150 million in his budget for the Everglades. It's part of a 20-year plan to pump $5 billion into protecting and restoring the ecosystem. This week President Barack Obama proposed in his budget for another $195 million for the Everglades.
Twenty-years after the first wading bird report, things are not all bad news. Cale says, "I think we're getting there in terms of getting important projects finished, like the Central Everglades Planning Project. That's something that really will improve a lot of the conditions in the Central Everglades and allow to move water into the Southern Everglades."
Cale adds, "As we restore those water flows, not only will we protect these beautiful birds, it will also push back against sea water intrusion as well protect coastal habitats and reduce land loss."
We are halfway through the Everglades Restoration Plan set back in 2000. It's an effort to restore and protect the natural ecosystem of the Everglades. It covers 18,000 square miles over sixteen counties at a cost of more than $10 billion dollars. -
WLRN
.
Two women mauled by packs of feral dogs in Bareilly, India
The stray dog menace in Baheri tehsil has taken on a new dimension as the
canines have now started targeting adults as well. Two women, aged 37 and 50, were reportedly mauled by dogs in separate incidents in the district on Tuesday.
According to reports, Reshamvati, 37,
was attacked by a pack of ten dogs while she was collecting fodder in a field in Faizganj Kamthena village. She received injuries on stomach, legs and hands.
Locals rushed to the spot after hearing her cries and rescued her. The villagers attacked the dogs with bamboo sticks and shooed them away. The woman has been admitted to community health centre (CHC) in Baheri where she is undergoing treatment.
In a similar incident, 50-year-old Heerakali, 50, was attacked by a pack in Nazarganj village when she had gone to the outskirts of the village for some work.
However, with timely intervention of locals, the woman managed to escape with minor injuries. She is also being treated at a CHC.
The team set up by the district administration has not been able to trap these dogs, the district authorities are now claiming that it appears that a few mad dogs are also part of the pack which are attacking the locals.
Baheri sub-divisional magistrate Rameshwarnath Tiwari said, "We are sure that the dogs are stray and not wild, but it appears now that a few mad dogs are also part of the group which is mauling the locals." He added that the joint team of forest department and Nagar Palika are combing the forest to trap the dogs.
Meanwhile, members of All India Jan Sewa Committee, on Wednesday, submitted a memorandum to the divisional commissioner, demanding compensation for the families whose children were injured in stray dog attacks.
"The children who have been attacked belong to poor families and they are not in a position to bear the cost of treatment. The district administration has failed to tackle the dogs menace but at least they should provide compensation to the families for treatment on humanitarian grounds," said Nadeem Qureshi, All India Jan Sewa Committee president.
In the past 40 days, the pack of stray dogs have killed five children and injured at least 10 children.
According to the district administration, the dogs are attacking locals living in nearly 20 villages situated in and around two rivers - Babul and Kicha. -
The Times of India
.
Massachusetts animal shelters report large numbers of suffering wildlife due to record cold weather
A screech owl sat on a perch mending a fractured wing at the New England Wildlife Center in Weymouth. © John Tlumacki/Globe Staff
The casualty list is wide ranging: possums with frostbite, a turtle frozen in a block of ice, a swan hit by a plow, a fox hit by a car.
If this month's record cold and snowfall have taken a toll on human residents in Massachusetts, they have also wreaked havoc on the animal population, particularly wildlife. Animal shelters are beyond capacity with weather-related injuries.
"This is the worst winter that we've seen in terms of straight-up starving animals coming in,"
said veterinarian Maureen Murray, who practices and teaches at the Tufts University Wildlife Clinic in North Grafton. "With this historic amount of snow and extremely low temperatures, animals need more energy to stay warm, but they're not able to find food sources for that energy, so it's a really big strain on them."
Although it's difficult to determine whether wildlife populations have suffered permanent damage, local experts say it's clear the animals are under extreme stress.
In response,
animal shelters are working overtime.
At New England Wildlife Center in Weymouth, the staff is tending to creatures they rarely see, including ocean birds blown off course by the recent storms and brought into the shelter emaciated and battered.
The Cape Wildlife Center in Barnstable, one of the largest in the Northeast,
has more than 90 patients in care now, nearly triple the average number for this time of year
, said director Deborah Millman.
At the New England Wildlife Center, Dr. Greg Mertz cared for a malnourished mallard duck that was rescued in the snow. © John Tlumacki/Globe Staff
"I cannot think of a wild species that is not at risk in this weather," said Dr. Greg Mertz, chief executive and "odd pet vet" at the New England center, whose staff has been working around the clock to feed them and mend broken wings and legs. "They're part of the same environment we live in, and the things that affect us are also affecting them."
The patients at the center, the only wildlife hospital in Greater Boston, include an Eastern screech owl brought in by an Abington family who noticed that it was up to its neck in snow. "His body was frozen. We put him in ICU in an oxygen tank, and on top of a heating pad," said executive director Katrina Bergman. Treated for hypothermia, malnutrition, and a broken wing, he is doing well, she said.
Similarly, a turtle found frozen in a snowbank by a Boston family is recovering. "They don't have a car, so they rented a Zipcar and brought it in," said Bergman.
It is not easy treating wildlife under even the best of circumstances. "Domestic animals want to be taken care of, but wildlife want no part of this at all," said Mertz. "These animals are not used to being around people at all."
The MSPCA reports that two starving roosters with frostbitten combs were found abandoned in Shrewsbury, and a Pekin duck was plucked out of a snowbank by the Marblehead animal control officer. "She was probably someone's pet," said MSPCA spokesman Rob Halpin. "She had a little blue ribbon tied around her leg."
Among the most common animals being seen at the shelters are ailing sea birds.
The worst of the recent storms have been nor'easters, where the wind rotates onto land from the northeast, driving ocean birds toward shore and onto ice floes or snowbanks, according to the wildlife center.
The birds include thick-billed murres, Bufflehead ducks, and horned grebes. Malnourished, too weak to fly, and hundreds of miles from their habitats, they've been treated for broken wings and legs,
and fed constantly. Mertz had two black ducks in ICU that had to be tube-fed, so frail were they after being blown from their ocean lair onto land.
"These guys are almost always offshore, and people never come in contact with them," Mertz said.
Beyond the ones he has treated at his clinic, Mertz said he is also concerned about those animals he's not seeing. Take, for instance, chipmunks, groundhogs, squirrels, shrews, mice, and moles. "They're not at risk now because they're buried in hibernation, but when all this snow melts, that changes the story. You worry about the flooding that will affect the hibernating."
Many other animals normally would burrow through the snow to eat buds and seeds, but most are doubtless having trouble both digging through the deep drifts and finding anything to eat these days, he said.
Like the wildlife center, the MSPCA is concerned about those animals that can't reach either the ground or seeds. "It's at this time when backyard bird feeders are most appreciated by animals who otherwise might starve, and we'd ask for everyone who is able to do so to please keep their seed feeders filled until spring comes," said Halpin.
Mertz said he worries that larger animals, like deer, may be frustrated in their attempts to secure food, finding it too difficult to forage. The only animal tracks he has seen in the woodlands are from fisher cats.
"I think that's because they're light enough not to be sinking deep into the snow, but I'm not sure they're getting enough to eat."
Domestic animals are less at risk from the weather. Those who work with them report that the vast majority of pet owners are able to keep their animals safe and comfortable. It's the economy — not the weather — that most affects pet security.
Still, the shelters for domestic animals are facing their own difficulties. At Greyhound Friends Inc. in Hopkinton, two volunteers, Jon Servello and Mickayla Shepard, "ride out the storms overnight with the dogs" to make sure the 30 hounds are safe and sound. "Greyhounds have no fat, no insulation; they're short-haired," said Louise Coleman, who founded the nonprofit in 1983. "We're very careful with this kind of weather."
The fenced-in area for the dogs to roam and relieve themselves is blanked in snowdrifts. "Greyhounds don't like being anything but comfortable," Servello said. "Trying to get them outside when there's disagreeable weather is difficult."
That's where their two-legged friends come in. -
The Boston Globe
.
King crab from Arctic waters found on Redcar beach, UK

Red king crab could be first on our shores, crustacean is usually found in icy waters like the Arctic
He's spent his working life beneath the sea but even oceanographer David McCreadie was baffled by a rare visitor to Redcar.
For the formidable-looking red crustacean found by David's fiancee Diane Weinoski looks for all the world like a king crab -
and they hardly ever stray from considerably icier waters.
Members of the lithododid family, king crabs are large, tasty and usually found in seas MUCH colder than Redcar's.
And despite having worked and played in oceans across the world since the mid-1960s,
David has never heard of one being found this far south.
David, 66, who was brought up in Redcar but now lives in Great Ayton, said: "I have dived as an amateur and professional since 1966 and never seen one anywhere near here before.
"I have heard that king crabs have migrated under the Arctic ice cap and been found in Norway,
but this is so far south."
In a lifetime devoted to marine matters, after studying oceanography and marine biology in Bangor, North Wales, in 1966, David stayed to do research before starting a successful oyster hatchery, mussel business and lobster tanks.
Since then, he's started a smokery which supplies the Royal Family, worked as a senior offshore inspection rep in Abu Dhabi and is currently senior lecturer at the TWI Techonology Centre on Riverside Park, Middlesbrough.
In other words, when it comes to life under the sea, he knows what he's talking about.
David, a former pupil of Sir William Turner's School in Redcar, said: "I know my crustaceans and when I saw this one, I knew it was special.
"I know king crabs are common in the Arctic, especially around Alaska, and they have turned up in Norway recently, but how on earth this one has got so far south, I have no idea. To my knowledge, this is the first one.

"It could only come from very cold, deep water but we don't have very cold deep water in the North Sea.
"Perhaps it was on its summer holidays!"
Sadly, the king crab's Redcar vacation didn't last long.
It was alive when Diane first came across it last Friday, but a subsequent return to the beach found it dead on the sands. -
The Gazette
.
Thousands of birds dead due to avian flu in Monywa, Myanmar
Bird flu sa resurfaced in Myanmar, prompting officials to turn to culling chickens
to stem the spread of the H5N1 virus. Fortunately, no human cases have
been reported. (Photo : USAID Afghanistan)
In an effort to prevent H5N1 bird flu from spreading, Myanmar has turned to culling more than a thousand chickens in Monywa.
The country's first bird flu outbreak in 2006 also happened in the same region, around 525 miles northwest of Yangon. The last outbreak in Myanmar was in 2011 in the western Rakhine State. Over 1,400 chickens as well as 10,000 quails have died since the outbreak started in Monywa earlier in the month but it has been brought under control. No infections in people have been reported but 1,500 chickens and over 20,000 quails have been culled since then.
H5N1 is a highly pathogenic bird flu virus that has led to dramatic outbreaks in the domestic poultry industries in the Middle East and some parts of Asia. The first human infection was
recorded
in Hong Kong in 1997, with almost 650 cases reported since 2003 across 15 countries.
Highly pathogenic means a virus has great ability to cause disease but while H5N1 is one, the virus is mostly easily caught by poultry. People may get infected from coming into contact with sick or dead poultry that have been infected with the virus but once infected people can't pass it to each other. Around 60 percent of cases in humans result into death.
In the United States, no cases of H5N1 have been
reported
in birds or people. In 2011 though, 62 human cases of infection were recorded, with 34 dying in Indonesia, Egypt, China, Cambodia and Bangladesh. Common symptoms of an infection in people include fever and cough, which may rapidly progress to severe viral pneumonia with hypoxia, difficulty breathing and shortness of breath.
The best way to prevent infection in people is to avoid any form of contact with infected poultry, sick or dead. This means avoiding live poultry markets while traveling as these areas may harbor the virus. At the same time, it is essential to practice good hygiene and proper food handling when preparing raw eggs or poultry. Make sure to wash hands with warm water and soap for minimum of 20 seconds and ensure all cutting boards and utensils are also properly washed. This will prevent raw poultry from contaminating other food items being prepared. Avoid eating raw eggs and make sure poultry is being cooked at an ideal temperature of at least 165 degrees Fahrenheit. A bird flu vaccine is currently underway in Thailand. A nasal spray, the medication has started phase 1 clinical trials. -
Tech Times
.
Thousands of dead fish found, 'no explanation' in the port of Wolfersdorf, France
Dead fish in the Rhone-Rhine Canal
Since Monday, thousands of dead fish are found in the marina of Dannemarie-Wolfersdorf Sundgau. This pollution causes anger fishermen.
Thousands of dead fish were found in the Rhone-Rhine Canal. Water police went there to take samples because there is no foam, no traces of oil on the surface and yet it probably has a pollution.
Already carried levies on Tuesday by teams of Green Brigades of the General Council of the Upper Rhine are being analyzed at the Veterinary Laboratory to determine the cause of this carnage. It would perhaps "pesticides dumped into the canal or pollution from a battery" explained the specialist. The police opened an investigation. -
France3
. [Translated]
5,000 Birds killed due to avian flu in Jigawa State, Nigeria
The Jigawa State Government on Tuesday said it has recorded three cases of bird flu outbreak and has culled over 5, 000 birds in the state.
Dr Abdullahi Birniwa, the Director, Veterinary Service, State's Ministry of Agriculture made this known in an interview with the News Agency of Nigeria (NAN) in Dutse.
Birniwa said the outbreaks were recorded in three different farms in Hadejia, Taura and Dutse Local Government Areas of the state.
He explained that when the symptoms were noticed in the affected farms, the ministry took a sample to the National Laboratory, Vom in Jos, where it was confirmed.
The director said that the ministry was directed to cull all birds in the affected farms.
According to him, over 5, 000 birds have been culled in the operation.
Birniwas said the affected birds included Turkeys, Ducks, Chickens and Geese.
He further explained that all the affected farms were sprayed with disinfectant to prevent further spread of the disease.
The director said that the operators of the affected farms were directed not put another birds until further notice. -
Daily Post
.
Snake makes a rare winter appearance in Stephenville, Maryland
Jake Claypoole of Stevenville spotted something unusual when he took his son sledding near the park and ride across from Kent Landing Shopping Center, commonly called Kmart hill, about noon Wednesday, Feb. 18.
He noticed a 3-foot snake on top of the ice on the storm water management pond.
Claypoole said he thought the snake was dead at first, but then he noticed its tongue moving and it began slithering toward the snow.
He said he watched and took pictures for about 20 minutes as the snake made its way off the ice, across the snow and into some nearby brush.
He said he had never seen a snake out in the winter on snow or ice before.
WATCH:
A snake in winter.
Bill Killen of the Wye Research and Education Center at the University of Maryland Extension in Queenstown identified the snake as a garter snake from the photos on Monday, Feb. 23.
While snakes may sometimes come out in the winter to sun themselves on a warm day
, Killen agreed it was unusual for the snake to come out during the frigid arctic temperatures the area experienced last week.

"It's not very often that they do that," he said.
Killen speculated the snake may have been hibernating under the parking lot. Unless it was able to find its way under cover, it likely became lunch for a bird. -
The Star Democrat
.